We caught up with the Head of Drinks at Mildred's to hear more about why Bush Rum is such a favourite there and how Mildred's Bush Rum Bossa Nova has been their best-selling cocktail this summer…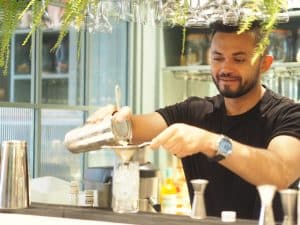 How would you describe Bush Rum?
An amazing spiced rum – Bush has a full flavour profile which really makes it perfect in cocktails.
Favourite way to enjoy Bush Original?
Basically, in cocktails – we did some blind taste testing with some other spiced rums and Bush Rum was chosen because it tastes so great in cocktails.
But your Passionfruit & Guava rum… now that one I just drink neat!  Or I make a kind of old-fashioned-style cocktail with it.
Where do you get your cocktail inspiration from? 
I mainly get my cocktail inspiration from how it will pair with food, working with our food development team to create delicious cocktails like the Bush Bossa Nova which pairs with our Brazilian-themed menu for Summer 2022.
Seasonality is also very important for me. The best cocktails have the best ingredients, and so to get good ingredients, they need to be in season.
It is also really important – from a sustainability perspective – that the food and drinks at Mildred's and our sister restaurant Mallow are made with reducing waste in mind. So, the fresh juices in our cocktails are actually made with ingredients that the kitchen cannot use anymore.
What makes a perfect rum cocktail?
The perfect rum cocktail for me is where the rum flavours really carry through – as I mentioned, this is why Bush was the choice for our cocktails at Mildred's – and why it's our house Spiced Rum.